```````````````````````````````````````````````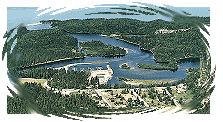 The actual townsite of Wawa is approx. 6 kilometers (4 miles) north of the marina via the Trans Canada Hwy. (#17). Wawa is accessible via taxi. Contact can be made through Buck's Marin.
Chart #2309 & #2315

---
All Services
VHF 68
Overnight Docking
Gasoline
Diesel
Showers
Laundry
Water
Electricity
Pumpouts
Ice
Launch Ramp
Boat lift

Repairs

---
Service dock depth: 5 feet
---
Medical:
Lady Dunn General Hospital
(705) 856-2335
---
Airport:
(705) 856-7231, ext #6
---
Information:
(705) 856-4488
The famous Wawa Goose is a landmark recognized worldwide. The word Wawa means "wild goose" in Ojibwa, and so this 28 foot goose is a fitting symbol for the community and one of the most photographed landmarks in North America.
From downtown, Wawa Lake is clearly visible. A walking path spans the west shoreline starting at the north end of Broadway Ave. and connecting the south beach. A large Rotary Blast Hole Drill Rig marks the start of the path as a tribute to Wawa's mining past. A series of historical plaques lining the walking path offers visitors a glimpse of Wawa's past.
Few communities can boast of a park created solely by one local resident, carved from the wilderness of thick brush and rocky terrain for the community and its visitors to enjoy. The late Mr. Vallee has created such a beautiful park in Wawa that is well worth a visit. Wooden and cement staircases lead visitors to the start of a short walking path (15 minutes) which ends at a quiet inland lake (Anderson Lake).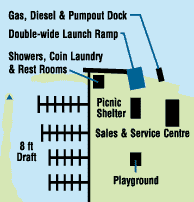 There is a laundromat service available at the Marina and two laundromats in town. Wawa has many restaurants and gift shops. The main business core is located on Mission Rd./Hwy 101 and Broadway Ave., and Hwy #17 North and South of town.
A new Community Centre has just been completed offering squash and fitness club facilities.
In town there is a major grocery store, one major bank (Royal Bank) and a branch of the Northern Credit Union. Both have 24 Hour instant teller machines. To make your travels easier there is a National Car Rental outlet in town (705-856-7194).
Wawa Municipal Airport has a 4429 feet long x 98 feet wide paved runway suitable for everything up to small jets. There are no regularly scheduled flights at this time. Please contact the Airport for more information at (705) 856-7231, ext #6.
Wawa has an Annual Fish Derby which is held during the third weekend in August. This popular event attracts fishers from Canada and the United States.
A portable pumpout service is available by contacting Bucks Marina.
Town of Wawa Online information.